Tennis anyone? Since 1973, the Charlottetown Tennis Club (CTC), member of the Scarborough Tennis Federation (STF) and the Ontario Tennis Association (OTA), has served up tennis for the Charlottetown community. Programs are available for the entire family, including social round robins, house league, and competitive inter club play.
New to tennis? Group lessons are available at a very reasonable cost. The Head Tennis Pro can arrange lessons for you. CTC is a non-profit Club, dependent on volunteers for all Club operations. Reasonable membership fees fund Club expenses, such as, city permit fees, equipment expenses such as windscreens/nets, and even the court surface itself. Membership application forms are available at the Port Union Community Centre.
Charlottetown Tennis Club (65 Charlottetown Blvd.) is located at Lawrence and Charlottetown Blvd. (west of Port Union) in Scarborough. The club has three outdoor courts, lit for evening play. The club is located next to the Port Union Community Centre, which has washroom facilities and a public library. Charlottetown has two teams in the Scarborough Tennis Federation's Interclub League in the B2 & C1 divisions.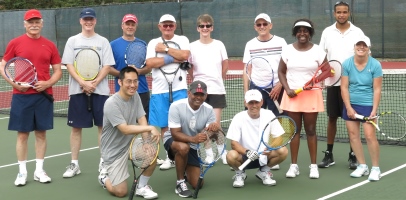 Club hours are 8:00am to 11:00pm daily. Non-Members may use the courts during public hours (see the Public Hours tab for further information) provided they follow the rules of the Club (which are posted on the bulletin board at the courts). A key must be obtained from the Community Centre in order to gain entry to the courts. Non-Members (Adults 18+ - under 18 must be accompanied by an adult) must leave a piece of identification, in order to receive the key. The identification will be returned once the key has been returned. Members are still permitted to play during the public hours.